Non-fungible tokens, or NFTs, have exploded in popularity in recent years as a way to represent ownership of unique digital assets. From art and music to gaming items and more, NFTs allow for the creation of scarcity and exclusivity in the digital world, which can increase the value of the asset. Collectors love them for a variety of reasons: Some love art, some are looking to turn a profit, some enjoy the feeling of being part of the community and some are just interested in the new technology.
As we look towards 2023, it's clear that NFTs will continue to play a significant role in the world of digital assets. In this article, we'll be highlighting the 10 best NFTs of the past year. These NFTs represent a selection of the most innovative and exciting projects in the space, and are sure to be sought after by collectors and investors alike. There are so many great projects, so although we have selected our stand–out favorites here we will include honorable mentions below as well in our Ultimate NFT Shopping List. It is also important to note that we did not simply choose all the largest projects for this top 10 list, but also considered ways that individual projects were contributing to innovation and the space overall.
Without further ado, let's take a look at the 10 best NFTs of 2022 in no particular order.


The 10 Best NFTs of 2022
1. Bored Ape Yacht Club
2. Animetas
3. Hunnys
4. Gutter Cat Gang
5. Azuki
6. RTFKT
7. Punks
8. Neopets Metaverse
9. Deadfellaz
10. Evaverse


Bored Ape Yacht Club

Bored Ape Yacht Club is an NFT project that combines elements of art, gaming, and collectibles. The project is centered around a group of apes who enjoy a luxurious lifestyle, sailing the high seas on their yacht.
One of the standout features of Bored Ape Yacht Club is the beautifully designed NFTs, which feature detailed artwork of the apes in various settings. The NFTs also include gameplay elements, allowing users to use their NFTs to access exclusive content and experiences within the Bored Ape Yacht Club world.
In addition to the unique and immersive world that Bored Ape Yacht Club has created, the project has also gained attention for its partnerships with well-known names in the art and music worlds. These partnerships have helped to bring even more attention and credibility to the project.
Overall, Bored Ape Yacht Club is a must-have for collectors and gamers alike, and is sure to be one of the top NFTs of 2022.


2. Animetas
Animetas is an NFT project that aims to build a universe inspired by 90's pop culture, retro video games, and sci-fi movies, known as the Animetaverse. The project features a diverse collection of NFTs that depict a range of characters, including humans, children, punks, police, inmates, cowgirls and cowboys, ninjas, galaxy police, aliens, zombies, robots, holograms, and superheroes.
One of the standout features of Animetas is the large number of traits included in each NFT, with over 4,000 different options. The collection has many references to 90's pop culture and does not have a rarity system, meaning that collectors should focus on aesthetics rather than rarity when choosing an Animeta.
As the core assets of the Animetaverse, Animeta owners are able to claim Hovercars, AniTokens, and Animonster mining licenses for free on the Ethereum blockchain. The collection is fixed at 10,101 NFTs, representing the survivors of Earth in the Animetaverse.
In addition to the NFTs themselves, Animetas also offers a number of interactive experiences and events for users to participate in. These events help to create a sense of community and engagement within the Animetaverse.
With its diverse and collectible NFTs, immersive universe, and engaging events and experiences, Animetas is sure to be a hit with fans of 90's pop culture and collectors alike, and is definitely one of the top NFTs of 2022.
Hunnys

Hunnys is a collection of 10,000 of the most colorful ladies on the blockchain! It aims to become the world's largest dress-up doll on the blockchain, combining the collectability and interactivity of NFTs with the loveable nostalgia of dress-up dolls. The Hunnys Closet, launching in 2023, will allow users to collect, trade, and dye hundreds of unique items to fully customize their NFT.
One of the standout features of Hunnys is its unique and innovative color harmony system, which allows any item to be in any color without any unflattering combinations existing. The NFTs also include various traits and categories with a rarity system, adding an element of strategy to the collecting experience.
Hunnys is historically significant as a collectible as it was created by one of the earliest known female creators of NFTs that represent imagery of women. The project has also expanded into a sci-fi comic series using blockchain technology, and offers a physical merch shop where users can purchase NFTs that can be sold, traded, or redeemed for physical items, being one of the first to bridge the gap between the physical and digital realms in this way.
In addition to the collecting aspect of the project, Hunnys also offers a free monthly themed art drop called "Hunnys Seasons" for holders, which has been running for over a year. This helps to create a sense of community and engagement within the Hunnys world.
With its colorful and collectible NFTs, innovative color harmony system, and engaging events and experiences, Hunnys is sure to be a hit with collectors and fans of dress-up dolls, and is definitely one of the top NFTs of 2022.
Gutter Cat Gang

Gutter Cat Gang is a next-gen lifestyle brand inspired by fashion, sports, and gaming. The brand builds products, platforms, and experiences at the intersection of web3 and culture, and aims to create the leading web3 lifestyle brand and hub for collectors and creators in the metaverse. Gutter Cat Gang is a community that gives voice to the misfits and underdogs who share a common goal to connect, create, and shape web3 culture together.
One of the standout features of Gutter Cat Gang is the Clone Machine, which allows users to create D2 Gutter Clones – generative art digital collectibles – using DNA-2 Gutter Juice. Gutter Clones are divided into four categories: Gutter Cats, Gutter Rats, Gutter Pigeons, and Gutter Dogs, and there are a total of 4,000 NFTs in the collection. Holding a Gutter Clone grants membership to the Gutter community and gives access to exclusive drops, events, experiences, and more.
In addition to the Clone Machine, Gutter Cat Gang also hosts a variety of events and partnerships, including charity drives, restaurant takeovers, and collaborations with other brands. The brand is known for its immersive experiences and interactive events, helping to create a sense of community and engagement within the Gutter Cat Gang world.
With its unique Clone Machine, engaging events and partnerships, and immersive experiences, Gutter Cat Gang is sure to be a hit with fans of sports, fashion, gaming, and culture, and is definitely one of the top NFTs of 2022.
5. Azuki



Azuki starts with a collection of 10,000 avatars that give you membership access to The Garden: a corner of the internet where artists, builders, and web3 enthusiasts meet to create a decentralized future. Azuki holders receive access to exclusive drops, experiences, and more. The beautiful anime art style is a stand-out point for this collection.

Azuki is focused on creating a community for individuals who are interested in pushing boundaries and challenging the status quo in the digital world. The brand values community, originality, and trust in the process. The Azuki team is working on several projects, including partnerships, a decentralized autonomous organization (DAO), and a token called $BEAN. The team is also exploring the possibility of creating collectibles, streetwear, and events in the real world. Azuki aims to become the largest decentralized brand in the metaverse and is built and owned by the community.
6. RTFKT

RTFKT is a digital fashion and collectible company that produces and sells non-fungible tokens (NFTs) for use in gaming and augmented reality. The company was founded in January 2020 by Benoit Pagotto, Chris Le, and Steven Vasilev, and has a strong presence on Twitter and in its 157,000-member Discord server. RTFKT has gained a reputation for creating successful NFT projects through collaborations with well-known names in the NFT world, such as Japanese pop icon Takashi Murakami and NFT artist FEWOCiOUS. The company's first NFT project, in collaboration with FEWOCiOUS, was a collection of digital assets featuring shoes and characters that raised over $3 million in minutes after its release in early 2021. RTFKT's Clone X project, a collection of 20,000 unique avatars in collaboration with Murakami, was launched in November 2021 and became particularly popular due to the avatars being metaverse-ready. The company has also collaborated with blockchain-native artist FEWOCiOUS on digital sneakers that sold for $3.1 million within five minutes of release, and with JeffStaple on a collection of digital sneakers called Nike Dunk Genesis CRYPTOKICKS. In late 2021, it was announced that Nike had acquired RTFKT, and the company has since released CryptoKicks NFTs, which are expected to be successful due to Nike's strong brand recognition. It is worth noting that RTFKT NFTs have already proven to be popular and valuable in the market, with the CloneX avatars alone earning over $500 million in secondary trades.


7. CryptoPunks



CryptoPunks are a collection of 10,000 unique digital characters created by the company Larva Labs in 2017. Each character is stored as a non-fungible token (NFT) on the Ethereum blockchain, meaning that they can be owned and traded like physical assets, but are stored and verified digitally. The collection has become well-known in the world of cryptocurrency and has inspired the development of other NFT projects. The characters, known as CryptoPunks, are highly prized by collectors and have been known to sell for millions of dollars in online marketplaces. The collection has also gained attention from mainstream media and has been featured in articles in The New York Times and other publications.

8. Neopets Metaverse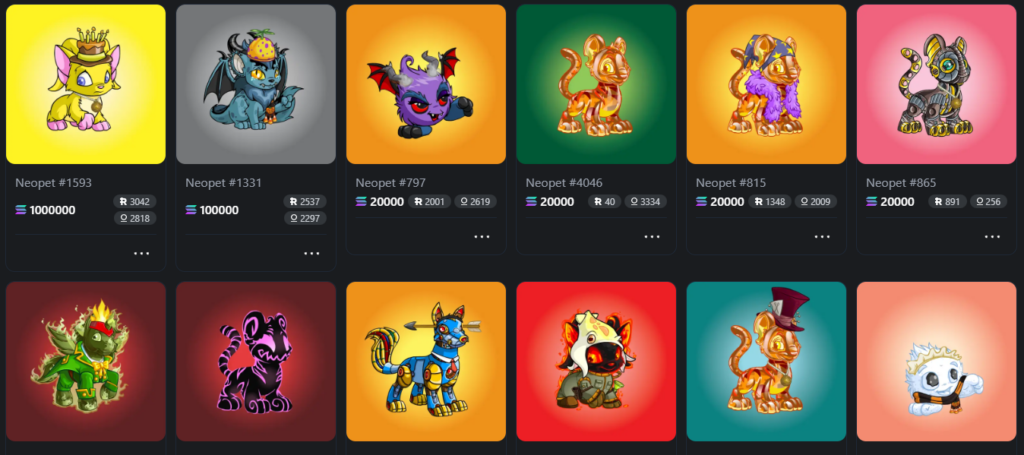 The Neopets Metaverse is an adaptation of the popular online game Neopets, which first launched in 1999. The new version will be a free-to-play game that is accessible to both crypto natives and non-crypto users. The game will feature a variety of activities such as caring for virtual pets, playing mini-games, crafting and furnishing a home for your pet, and participating in player-versus-player combat in the Battledome. In addition to these traditional Neopets activities, the Neopets Metaverse will also offer economic opportunities for players through staking and other GameFi activities. The game is in early alpha with a public beta planned for Q2 2023. Ongoing updates and new features, including seasonal tournaments and new gameplay elements, will be released on a quarterly basis.



9. Deadfellaz
Deadfellaz is a popular collection that features 10,000 algorithmically generated "undead" avatars. It was created by pseudonymous creators "Betty" and "Psych" in August 2021 and has gained widespread popularity, with a number of celebrities, including Lil Baby, Steve Aoki, Reese Witherspoon, and Dillon Francis, holding one or more Deadfellaz NFTs. The collection offers holders a number of benefits, including access to exclusive merchandise, community competitions, virtual events, and metaverse platforms, as well as all future collections. Deadfellaz has also formed partnerships with notable figures in the NFT space, including Steve Aoki and Ozzy Osbourne. On the marketplace OpenSea, Deadfellaz has generated almost $82.7 million in sales so far. Recently, the project signed an exclusive representation deal with United Talent Agency (UTA), which will help to grow the project through brand partnerships, merchandising, gaming, and live events.

10. Evaverse

The Evaverse is a virtual gaming world built on the blockchain that empowers players to own and obtain value through their in-game assets. It is designed to be a 10,000-hour game that players will enjoy for decades, combining competitive and social gameplay in an immersive world. Players can earn tickets by playing any of the game modes available within Evaverse, such as hoverboard racing or cosmic cup, and by discovering treasure as they explore the world. These tickets can be used to spin the Badge Exchange Service Terminals (B.E.S.T Machines) in the E.V.A. HUB and win badges, which will be used to determine players' airdrop of the $EVA cryptocurrency. In the future, the Evaverse will also feature a shooter arena game mode, where players can own and customize combat assets and compete in fast-paced, competitive matches. Overall, the Evaverse aims to create meaningful experiences for players and offer them opportunities for ownership within the gaming ecosystem.



The Ultimate NFT Shopping List:


Welcome to the Ultimate NFT Shopping List! Here, you'll find a comprehensive collection of the best and most popular NFTs from a wide range of categories. Whether you're a seasoned collector or new to the world of NFTs, this list has something for everyone. From iconic characters and artworks to unique virtual assets and collectibles, the Ultimate NFT Shopping List has it all. So take a look, explore, and find the perfect NFT to add to your collection!

We are constantly adding to this list! If you want to be included or have a fun idea for a new category, please DM @CryptoStacys on Twitter.


Super-Duper Early:

For the historian in your group, pick up one of these insanely early projects that are amongst some of the first and rarest on the blockchain!

CryptoPunks
Axie Infinity
Decentraland
CryptoKitties
My Crypto Heroes
Ethereal Summit
Etherbots
Cryptovoxels
Gods Unchained
ChainGuardian
CryptoSpaceX
EtherDungeons
EtherGoo
Cryptovoxels
ChainGuardian
EtherGoo
CryptoSpaceX
EtherDungeons
CryptoSpaceX
EtherGoo

Early Pre-Generative Boom:

Interested in the history but don't have the budget? The NFTs on this list are from the pre-generative boom era of NFTs and are still rare and highly collectable, but don't come with the same extravagant price tag as some of the others.

CryptoKarens
Stacys
Heaven Computer
EtherBBs
Long Neck Originals
Epic Thundercat
Hunnys OGs
CryptoPrincess
Women by Yam
Crypto Geisha
Bad Kids Alley
SkeleBits
SocraTrees
Fatbaby
CryptoYankiz
Stray Aliens
The Pissed Off Beagle Gang
Super Blitz
Aswang



Early Generative Boom:

Bored Ape Yacht Club
World of Women
Hunnys
Cartlads
Alien Boy
Gorilla Nemesis
Rebel Kids Parade
Fang Gang
Clever Girls
CryptoFoxes
Monster Rehab
Raptor City Rascals
Gutter Cat Gang
SuperYeti


Controversial:

From PR scandals to lawsuits, the NFTs on this list are perfect for the drama-queen of your group. The things on this list all come with a little SPICE.

Chubbies
SuperYeti
Misfits Academy
Pixlemon


On a Budget:

Want to collect but don't have deep pockets? Try out some of the NFTs on this list to get you started without breaking the bank.

Hunnys Seasons
Bad Tattoos

Cute:

Like tiny cartoon critters and things you just wanna squeeze? Only the cutest of the cute are on this list.

Cool Cats
Wonder Pals
Toy Boogers
Vinny and Frens
Sappy Seals
Beanz
Lil Pudgys
Mystic Wizards


Women's Representation:

Who runs the world? GIRLS! This list is the best of the best when it comes to representation for the ladies in your life. The items on this list are a great place to start building a collection for your daughters to enjoy!

World of Women
World of Women Galaxy
Boss Beauties
Hunnys
90s Babes
The Divines
Fame Lady Squad
The Heist
Pixie Jars
Crypto Neon Girls
PixelEyes
Valfrelandia

LQBTQ+ Representation:
Clever Girl


Solana:
These projects are the best on the Solana chain!
DeGods
Neopets Metaverse

High-End:
These projects will come with a hefty price tag if you want to collect them, but it will be well worth the sacrifice. Hope you have a hardware wallet!

Bored Apes
CryptoPunks
Beeple
Punks Comics
Photography:

Anime:
Azuki
Super Space Defenders
Cosplayers Academy
Tsuki


Metaverse Land
Otherside
Play to Earn Gaming:
Evaverse

Best of 1/1s:
Ilyakiazakov

Derivatives:
Stargirl Salon
Hupe Scouts

Hilarious:
Dicks for Everyone